If you are using the command transfer preset, it will show you the "Transfer Settings Preset Editor" dialog. Therefore, while you are going to add and edit the preset values from the transfer page, this dialog will appear.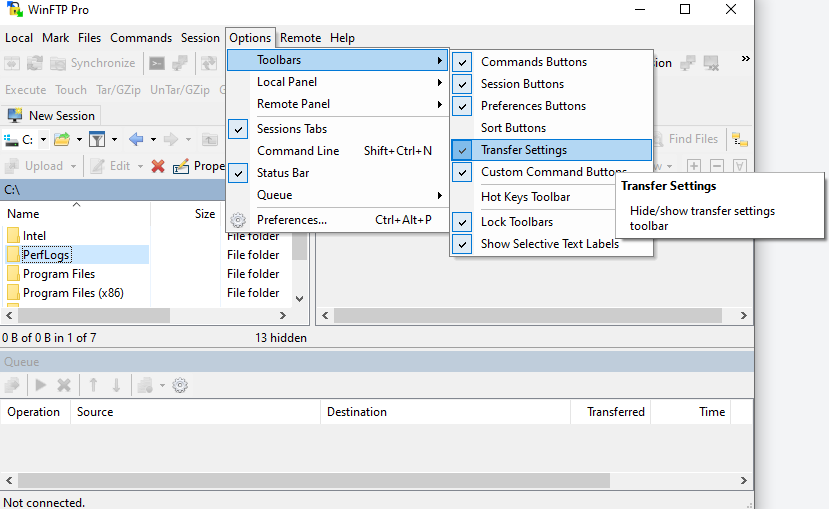 The transfer preset has three main options, which are described below-
Preset description
Transfer Settings
Auto-selection Rule
Preset description 
In this description box, you can type the description/name of the particular preset.
The preset can be seen under its name under the "Transfer Settings Toolbar" and also in some other places.
You just need to add an ampersand (&) just before the letters if you want to make it like an accelerator of Keyboard (Example- &Web).
Transfer Settings 
This option is helpful to keep control for settings, and transfer options; these are the same as the "Transfer settings dialog".
Auto-selection Rule 
You must check the option "Automatically Select" to allow the WinFTP Pro software to select the preset automatically. This will override the defaults and work accordingly.
By doing this, it will enable the "Auto selection Rule Box"
Every rule box (from the four) shows the masks to compare with the hostname, path of the remote directory, username, and the path of a local directory, etc.
Anytime, you try to change the directory or change the session, all the rules, which are configured, will be "Re-Evaluated."
Each time the first Rule will win, whenever you set more preset options and whose rules are matching.
Every box of the rules is able to contain various masks.
In this condition, anyone box can be empty/you can leave it empty, just to omit the rule (it has to be the same in terms of the effect if you are using the mask*).
You cannot use the Local directory mask with the explorer interface.
If you want to fill every/all box, along with the current session data, it allows you to do it using the button "Current".
If you have left the Preferences dialog open, the button will be invisible to you. Hence, you must off close the dialog box first.