The security Page under Preferences Dialog main pages enables you to create, change, or remove the master password. In WinFTP Pro software, you can always set and update the password by visiting the security page and using some easy steps.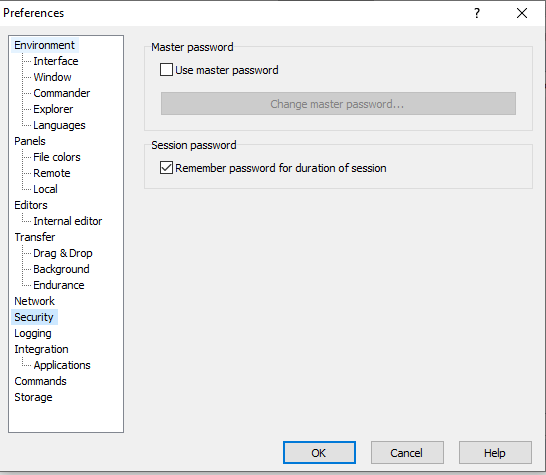 Please refer to the following documentation of the security  page for more details:
Master Password
Session Password

Master Password
Check the option "Use master passwords" if you want to create master passwords. The settings for Master password dialog will appear.
Similarly, if you want to remove the master passwords, simply uncheck the option " Use a master password". This will prompt you to the current password section, even if you have already entered it in the current session.
Use the option "Change master password" if you want to change the master password. A dialog of master password settings will be shown to you.
Session Password
For session management, uncheck the option "Remember password" for the duration of the session checkbox, if you want to avoid the password (Or the key passphrase, which is private) entered by you. In addition, it will work for the password, which is stored in the memory for the session duration.
After doing this, you will be redirected to the password/passphrase again, while reconnecting a connection, which is lost and also for the background transfers.