The Panels/Local Page or panels local helps the users to configure the display and behavioral settings/options of the local files panel. The configuration of local files is easy and requires only a few steps, which you will find under the Preferences dialog.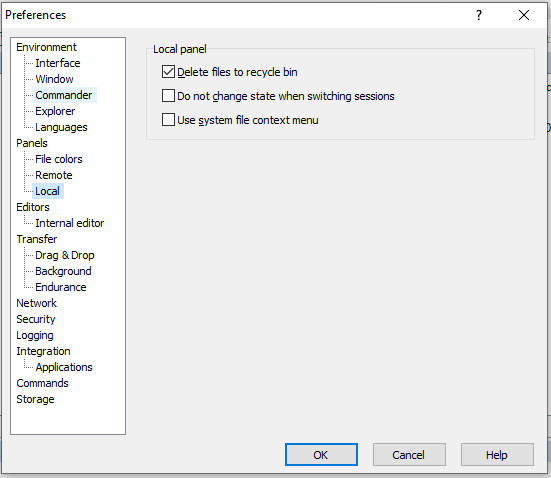 Over here is the further documentation, please refer to the following page sections
Local Panel
When you have checked the option "Delete files to recycle bin," the removed local files will be moved to the recycle bin of Windows.
This will include, deleting the files at the time of synchronization (not in the console mode, under the GUI only).
The files are removed immediately if you have not checked the option, and it will also not move to the recycle bin.
If the option "Do not change state when switching sessions checkbox" is checked, the local will not be changed in the local panel, when the sessions are switched.
In addition, it suppresses the effects of remembering the panel state when you are switching the sessions for the local panel.
You should check the option "Use system file context menu" If you want to make the system files context menu as Primary menu for the local files.
If you leave it unchecked, the specific context menu of WinFTP Pro (With the commands like- Upload) will be the primary menu.
Also, you can use the System menu command in WinFTP Pro-Specific context menu if you want to show the system file context menu.