The panels Page (Preferences Dialog) allows the users to configure the display and the behavioral options of the files panel.
You can find some more panel options, which are available on the below subpages:
File Colors
Local
Remote
 For more details, you can refer to the documentation of the following page sections-
Common Options
Double-Click
Panel Font
Common Options
You can show all the hidden files by using the checkbox toggles; it will display the hidden files.
The checkbox "Default directory is a home directory" will make the initial directories of the session to replace the home directories. This option will not have any effect if the session option keeps the option to remember the last user's directory is already disabled.
The "Remember Panel" indicates, while switching the sessions checkbox is controlling whether the panels' state (the focused items, sorting of the panel, and the browsing history) has been saved or not for each opened session.
You can disable the behavior if you have enabled the local panel.
"Select the whole name when renaming the file" checkbox ca control if the base file name only (without the extension) or the whole filename has been selected primarily while you are renaming the file.
When you have unchecked the "Full row select" checkbox, you can select the files only by you click on its name (not the entire line). This option is convenient for the users, who want to use the selection marquee or like to have easy access to the context menu of the panel.
Use the Show File size into the selected format of the files in the size column.
You can also use the "Incremental Search Selection" to select the mode as per your preferences of the File Incremental search in the file panel.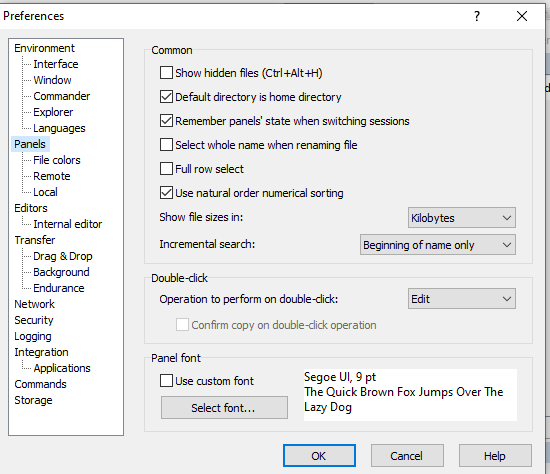 Double-Click
Try using the operation to work on the Double-Click if you want to select what WinFTP Pro software should do when you are using the Double-Click file under the file panel-
Open – to open the file.
Copy – transfer the file (download or upload).
Edit (its default) – edit the file.
It is also feasible for the user to choose between edit and open operations based on the extension of the file. To do this, you can find an associated application editor.
When you have selected the copy, the sub-option disabling Confirm the copy on Double-Click, it will let the transfer options not to show the transfer will start immediately along with the default options.
When you have resolved the symbolic links, the option will be ignored immediately.
Panel Font
The file panel uses the system "Icon" by default.
You can check the option "Use Custom Fonts" then press select fonts if you want to enable WinFTP Pro to use different fonts than the default system.
You can see the preview on the right side; it will show you how the fonts will look like.