The option the network page can be found under the Preferences dialog. It allows you to configure the global network preferences.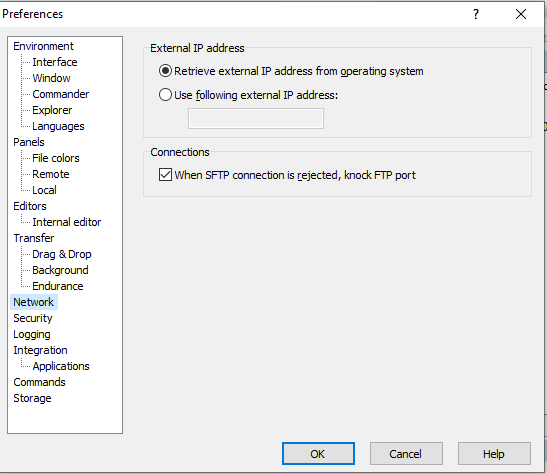 For more details, you can refer to the following documentation of the network page sections:
External IP address
Connections
External IP address
If you want to use the active mode with the "FTP" Protocol, here, WinFTP Pro will need to know the IP Address. It requires the information to confirm, from which server, WinFTP can reach your system/machine.
In case you have a direct connection with the network, WinFTP Pro may ask the operating system for the actual IP address.
However, if you are behind the NAT Router, it may return the local network address only.
In this case, you can check the option – "Use following external IP address" and fill the external IP address in the box.
You can also find your external IP address by using various online services such as – Whatismyop.net and Google.
Connections
Use the option "When SFTP connection is rejected, knock FTP port" if you want to make WinFTP Pro try and connect automatically, in case the server supports only the FTP Protocol when the SFTP connection is failed.
This option is to help the Novice users, who do not know that WinFTP Pro defaults to the "SFTP" (The contrary to most of the other file transfer clients).