The use of this interface page option is mainly available in the WinFTP software to enable the users to configure and change the interface's colors. You can set the dark of the theme using this option and work around the interface per your preferences.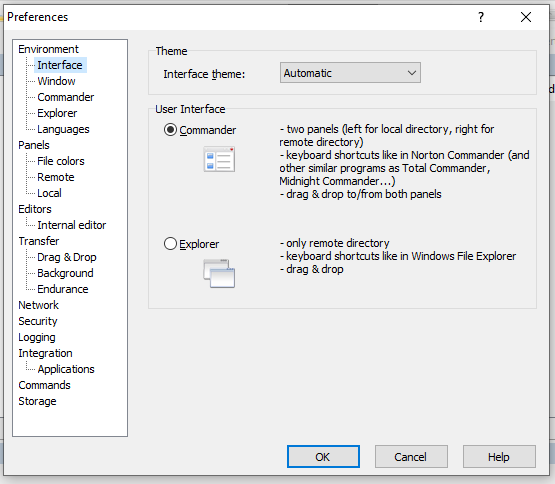 Below are the points and documentation of the interface page sections
Theme
Interface
Further Reading
Theme
You can set the themes and convert it to Dark mode in the interface theme selection.
The default or automatic mode can switch the themes in Windows 10, according to the 'Default app mode'.
The option is available under Settings > Personalization > Colors.
In the older version of Windows, you can see the 'Default automatic mode' is always falling back to the lighter theme.
Also, you need to make sure your system has the latest updates of windows 10 May 2019 (version 1903) if you want to get the perfect dark mode.
In addition, you need the updated version of WinFTP Pro software, too.
Interface
To check the commander, you need to select the "Commander Interface."
Next, check the explorer to select the "Explorer Interface."
You also need to learn more about the interface of WinFTP Pro software, before you are selecting anything or applying the changes of the interface.