The environment page (Preferences Dialog) allows the users to configure the behavioural options of the WinFTP Pro software interface.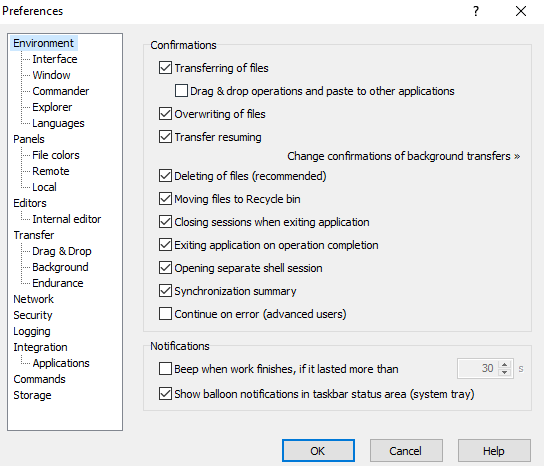 Apart from the main option, there are more behavioral options available on the subpages, which are as below-
Interface
Window
Panels
Commander
Explorer
Languages
As a next part, you can refer to the documentation of the page sections like-
Confirmations
Notifications
Further Reading
Confirmations
The panel of confirmations allows you to enable/disable the available boxes of confirmation, which makes you prompted while working on the various tasks.
You can also disable some of the boxes/confirmations by using the option/checkbox "Never ask me again," which is available on the message box
Note: You will be requested to answer the question in a positive way while confirming the preferences.
The checkbox "Transferring of Files" will make the options dialog of transfer, which you will see before you transfer the files.
When you disable the transfer; it will start instantly/immediately along with the default options.
You can start the confirmation of the transfer by using the drag&drop or the uploads to other applications (Example– Windows File Explorer) by using the option copy&paste it can control the process separately if you are using the Drag&drop option then paste it to the other application.
The checkbox of overwriting makes you overwrite the confirmations while you are transferring the files.
Also, you will be required the enable it if you want to use the other/alternative method to resume the transfer.
All the confirmations are suppressed by default for the background transfers.
You can use the "Change confirmation" option of the background transfer links if you want to switch to the respective options.
The checkbox of "Transfer Resuming" allows you to confirm the transfer resume.
When you disable this option, the transfer will be resumed automatically.
The "Deleting Files" checkbox allows the users to delete the confirmation.
Using the checkbox "Moving Files to Recycle Bin" will enable the confirmation to delete/move the files to the recycle bin.
If you use the checkbox "Closing session" it will enable the confirmation while you are closing the application along with the active sessions.
The checkbox "Opening Separate Shell Session" will control if the opening separate session needs confirmation.
Use the "Synchronization Summary" checkbox to control the summary of the operation, which is shown at the end of the directory synchronization.
The "Continue to Error" checkbox allows the batch operations (mainly the transfer files) to continue without any errors.
Notifications
"Beep when work finishes" checkbox enables the users to configure the software WinFTP Pro to generate sound at the time of operation. It will last more than the fixed/specified time.
Here are the operations, which trigger the sound-
The files operation (Example– file transfer)
When you are completing the background transfer queue
At the Synchronization process
Deleting/ Uploading of the files while you are keeping the remote directory updated