The Commander page (under the preferences dialog) is available for the users who want to configure an interface and the options of behavioral, which are specific to the Commander interface only. Using this dialog, you can access three main options for selecting the files and styles.
Over here are more details about the commander page sections
Panels Options
Miscellaneous Options
Compare Directory Criteria
Further Readin
Panels Options
You can use the selection of the "Explorer Style" for example the Windows File Explorer Style selection will work with this.
Also, the selection style can be used for the both – keyboard and mouse, and alternatively for the mouse only.
Use the "Swap Panel" checkbox to reverse the order of the remote and local file panels.
The "Show Directory Tree" on the left side can be used to toggle between the "Showing Directory Tree" on the left/above the list of files on the file panel.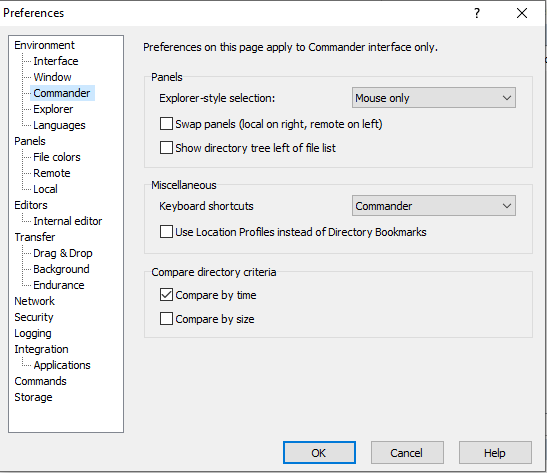 The Miscellaneous Options
The keyboard shortcuts can be used to select-
If the shortcuts of the keyboard of the "Norton Commander" or the standard shortcuts of windows should be used, while a similar shortcut is having a different meaning in both the schemes.
The option "Use Location Profiles" instead of the "Directory Bookmark" checkbox toggles between two modes of the bookmark.
Compare Directory Criteria
This section is mainly available to define the criteria for the comparison of the directories content (the file panels), if you are using the Compare Directory function.
The command will select or highlight the files, which exist in the opposite directory if you are using "Compare By Time." However, it will have the new timestamp (File, which you have selected in only first/one panel)
If you are using the command "Compare By Size", it will select or highlight the files, which exist in both the directories, similarly, it will have a different size (the files, which are selected in both the panels.
Note: "Compare by the time" option has a higher priority than the option "compare by size."
The files will be highlighted or selected if these do not exist in the opposite panel.
IF you leave both options Unchecked, the only files, which do not exist in the opposite panel will be highlighted or selected.
Further Reading
To read more about the preferences dialog, please visit the other pages, which contain more details.